UNIWES PROCESS & AUTOMATION EQUIPMENT
Automated Chemical Cleaning Line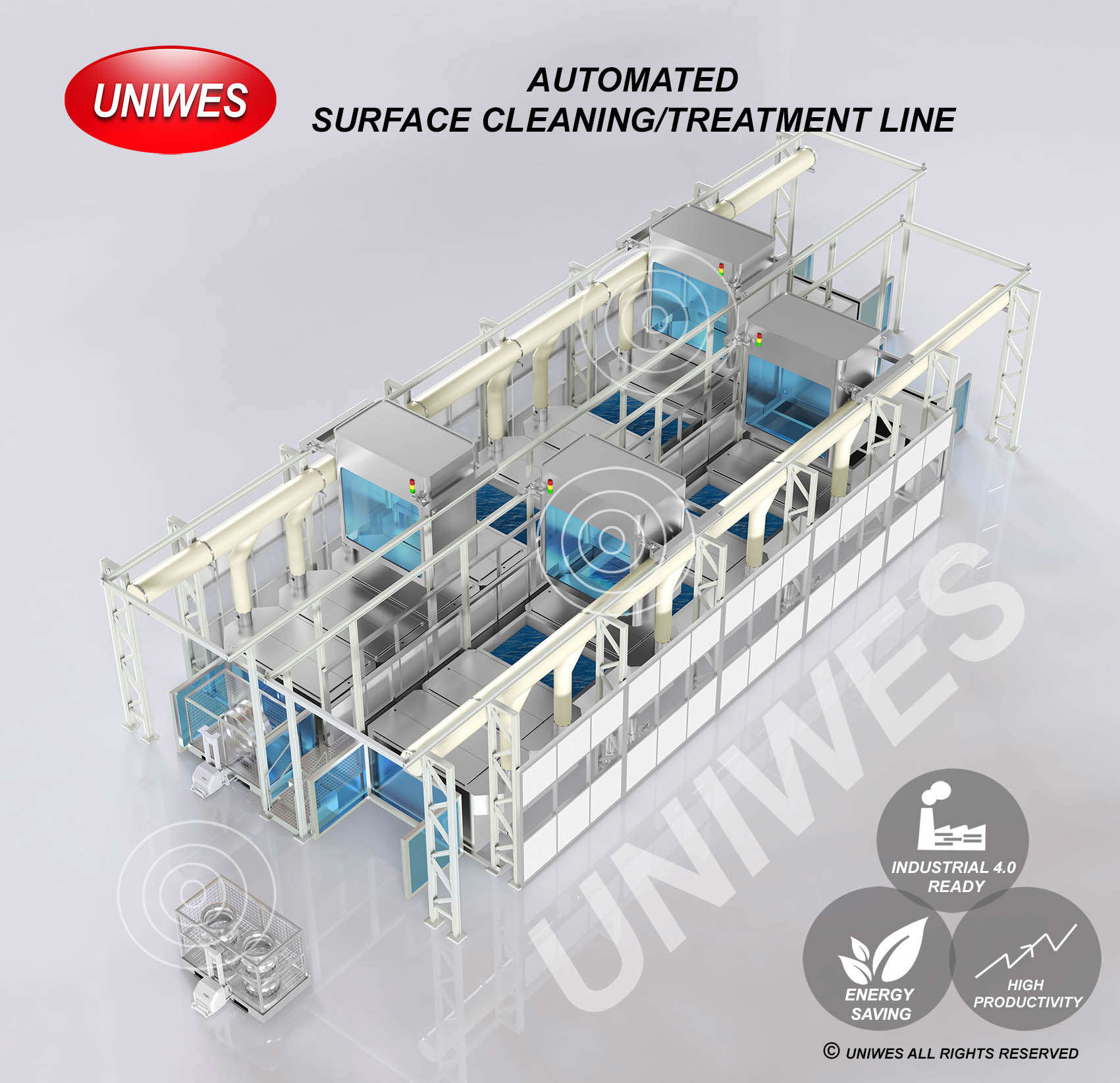 AUTOMATED CHEMICAL CLEANING LINE
Automated Chemical Cleaning Line allows parts to be immersed into chemical solutions such as alkaline degreaser rust inhibiter and surfactant for specific timing. Chemicals are used to remove oil, paint, coating, scale, grit, and deposit from the component surface prior to other processes such as inspection.


Based on our vast experiences in setting up automated Chemical Cleaning Machines, we have incorporated several enhanced features and a careful selection of materials to cater to the demanding nature of the cleaning process. This will, in turn, minimize the operator from exposure to an aggressive chemical that poses a hazard to the operating environment.


Working closely together with our customers, UNIWES combines technical abilities and know-how in the various industry (Shipping, Aviation, Oil and Gas, Manufacturing, transportation, etc) to design a complete, high quality and result oriented Chemical Cleaning (Machine) Line that improves your productivity while keeping the footprint smallest possible.


Designed for optimized efficiency for your production
Strict adherence to quality standards
Technical knowledge and experience ensure each turnkey is specially designed based on requirements – to obtain optimum productivity, high quantity, and quality output
Designed for Safety and Reliability
Environmental-Friendly technology
Manual or Fully Automatic capability
With a UNIWES system, you can look forward to a high-quality and technologically advanced system to help you boost your overall productivity and increase production.
All our equipment comes with the option of Critical Preventive maintenance to ensure equipment readiness.

Our Chemical Cleaning (Machine) Line is used by world-renowned Engine MRO companies, the Marine and Oil industry, and Manufacturing and Power Turbine OEMs.


CHEMICAL CLEANING LINE FOR RENOWNED AIRCRAFT OEM IN SINGAPORE


CHEMICAL CLEANING LINE FOR RENOWNED AIRCRAFT OEM 2


Send us your enquiry and our sales and technical team will be glad to assist you.