UNIWES PROCESS & AUTOMATION EQUIPMENT
Paint Booth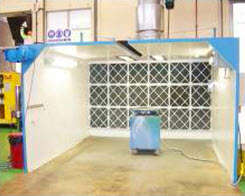 PAINT BOOTH
UNIWES has fabricated customized Paint Booth and Paint Mixing room of different designs, sizes and requirements for our client in different industry.
Some of the features and advantages that come with our Paint Booth includes the following, depending on client operation needs:
Fire / Explosion Proof
Well Ventilation System
Temperature and Humidity Control System
Material Handling Equipment
Hazardous Gas monitoring System
Filter Choke Alarm
Low Air Flow Alarm

Our paint booth comes with different designs including down-draft, side-draft and back-draft. Each of the designs are proposed according to client needs without compromising on the safety.

Special designs are also catered for table size paint booth. These table size paint booths are popular in the aviation industry due to its compact and high compliance design, as well as meeting international air emission standard. Operator works in a controlled environment, eliminating the hazard of poor air flow or paint contaminating the surrounding environment.

Send us your enquiry and our sales will be glad to assist with your operation needs !